EPDM Mat In Delhi, India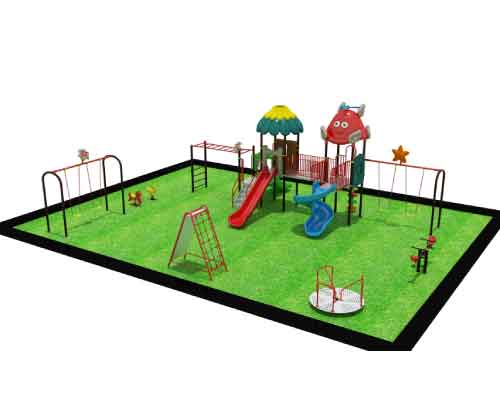 Being notable among EPDM Mat Manufacturers in Delhi, Kidzlet Play Structures Pvt. Ltd. offers different types of EPDM Mats and EPDM Rubber Flooring for Playgrounds, Schools, Crèches, Sports Facilities, Gyms, and to name a few. The smooth surface and stable cushioning of EPDM Rubber Mat make it a safe and durable choice for multiple applications. It ensures protection against injuries and reduces the impact of falls. We understand client needs can be as diverse as our clients. Hence, we bring custom-made choices at competitive market rates.
Characteristics Of Our EPDM Mats:
Highly sturdy and resilient against components.
Widely suitable for commercial and high traffic atmosphere.
Accessible in a diversity of styles, hues, patterns and textures.
Protect flooring from wear and tear and staining and ensure better safety.
It is simple to assemble, clean and maintain, despite the environmental challenges.
Doesn't release harmful fumes, is non-toxic, and is a safe choice for the environment.
It acts as a sound barrier between floors and decreases overall noise within the facility.
EPDM Mat – Your Flooring Needs The Best!
As one of the most counted EPDM Soft Flooring Exporters and Suppliers in India, we have custom-fit designs to meet your different demands. It is available in beautiful colors and multiple sizes. So, share your specific requirements via the website or call.
Frequently Asked Questions
Give A Brief About Your Company.

Kidzlet Play Structures Pvt. Ltd was a name that came into existence in 2015. In this short span, we have gained a gigantic reputation in the domestic and international markets. We design every product with the latest machinery and cut-edge tools. Our team of professionals is our backbone and works beyond the boundaries to meet client satisfaction. We are known for our EPDM Mat quality, durability, and competitive price range. We design the EPDM Mat as per your need. So get in touch with us now.
What The Other Equipment Do You Have?

Here is the list of different equipment that we have in our catalog:
EPDM Flooring

EPDM Gym Flooring

EPDM Mat

EPDM Playground Flooring

EPDM Rubber Gym Flooring

EPDM Soft Flooring

EPDM Sports Flooring

Kids Playground Flooring

Outdoor EPDM Flooring

Playground EPDM Flooring

EPDM Seamless Flooring

EPDM Granules Flooring
What Is EPDM Rubber Flooring?

EPDM rubber is a synthetic rubber that has several uses. It is used for flooring purposes in playground surfaces and sports. It is non-toxic and safe rubber. This quality makes it the first choice for children's playgrounds.
What Are The Advantages Of EPDM Mat?

Here are some advantages of EPDM Mat:
They are safe

Absorbs noise properly

Highly durable for the long run

Requires lesser maintenance
Is Your EPDM Mat Durable?

The short and crispy answer is: yes! We offer highly durable EPDM Mat. It is designed to stand up to heavy workouts and high-traffic areas. It can hold hundreds of people walking over it for days on end.